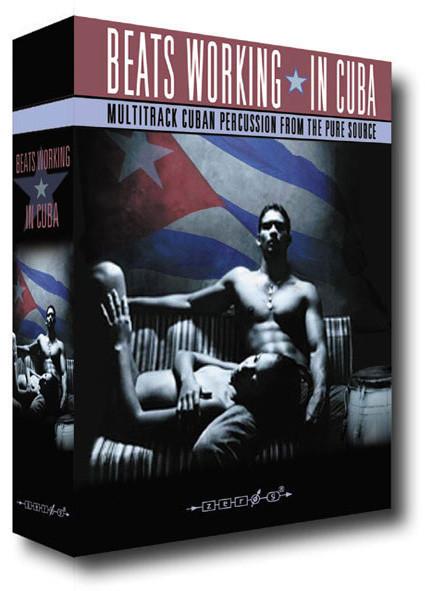 Beats Working In Cuba
Authentic and extensive library of Latin percussion performances recorded entirely in Havana
Beats Working in Cuba is the first complete and utterly authentic library of Latin percussion performances recorded entirely in Havana, Cuba, featuring the country´s very finest players, and presented in multitrack format to provide the user with complete flexibility in both tempo and the selection of instruments.
The styles covered include the 12 prime Afro/Hispanic rhythms of the Cuban music culture, including: Cha Cha Cha, Danzon, Son Montuno, Bolero, Pilon, Son Traditional, Guajira Son, Guaracha, Mambo, Songo, Timba, Conga Habanera (Carnival), and Conga Moderna. There are also additional variations in some of the performances to enable the user to select Modern or Traditional arrangements.
The producers, Barry Sage and Gonzalo Lasheras Garcia, are well known in the Latin field, with credits including Jorge Drexler, Luis Edurdo Aute, Silvio Rodreguez, Duncan Dhu, Esclarecidos, La Oreja de Van Gogh, Melon Deisel, Mariela and Solar. They were assisted in Havana by Raphael Santos and Marisol Alfonso Perez. The performances are provided with each instrument separated out.
Users of NI KONTAKT or NI INTAKT please note: the library is presented complete with instrument (.nki) patches. Use of the Kontakt .nki instrument patches requires a FULL version of Kontakt. If you only have "Kontakt Player" you will only be able to load them in a 'demo mode'. The instruments playing in each groove were miked separately and each mic output sampled. The resulting multi-track loops can be automatically synced to tempo via Beat Machine or Time Machine controls.
The Beat Machine programming has loops divided into their individual hits (slices). Each instrument (i.e. every track!) of each loop is sliced - which means any combination of instrument loops can be played at a wide range of tempos without change in pitch or audio quality.
This degree of flexibility is UNRIVALLED in any other percussion loop library we know of. It also allows you to give each hit individual settings for pitch, playback direction, pitch envelope, amp envelope, distortion, delay, and more; a MIDI file of each loop can be easily exported so that groove, accent, and feel can be manipulated in any host sequencer.
For more detailed info on the complete list and descriptions of the contents and background of the whole Beats Working In Cuba sample library, please download and take a look at the PDF of Contents and comprehensive guide (zipped folder 8.9 MB).
"Great grooves and 24bit recording quality, comprehensive documentation"
- EQ Magazine, USA
--
"The playing is superb, ridiculously infectious, and the flexibility provided by multitracked instruments and separate microphone feeds is invaluable in conveying realism... I dunno what could possibly beat working in Cuba!"
- REMIX Magazine, USA
--

"Having each instrument available for independent use allows you to easily create your own rhythms and adapt these sounds to any style of music. Beats Working in Cuba has the potential to inspire a Latin-American flavor that, if adequately used, could add a raw traditional sound to your tracks. I like the fact that they focused on just Cuba for this one product"
- RECORDING Magazine, USA
--
"These rhythms are just made to dance to, and if this collection doesn't make you want to dance around your studio then, frankly, you should take up stamp-collecting or train-spotting!.. There is no doubting the quality or authenticity... Those who want their samples as genuine as possible will find this an essential purchase. Rated: FIVE STARS out of 5"
- SOUND ON SOUND Magazine, UK
--

"If you are looking for a definitive library of Cuban rhythms, Beats Working in Cuba will blow you away"
- VIRTUAL INSTRUMENTS Magazine, USA
--

"What a brilliant job they've made of it... Vibrant, highly infectious rhythms... Meticulously recorded in 24bit multitrack format... The musicianship is truly superb... Rated 9/10 - and awarded the MUSIC TECH RECOMMENDED AWARD"
- MUSIC TECH Magazine, UK
"Extremely flexible. Great amount of variation between the patterns and nice separation of the instruments within the loops. The sound is great and very real. It's like having your own percussion players at the studio"
- Rafa Sardina (who has produced for Macy Gray, Stevie Wonder, Dr Dre, Dru Hill, Jessy Moss, Mariah Carey, Luis Miguel, Sheryl Crow, Soul Coughing, Marc Antoine, Angie Stone and Alejandro Sanz, among others).


Download Size (zipped files):
Bolero: 486 MB
Cha Cha Cha: 260 MB
Danzon: 148 MB
Son Montuno: 336 MB
Pilon: 201 MB
Son Traditional: 172 MB
Guajira Son: 152 MB
Guaracha Son: 196 MB
Mambo: 819 MB
Songo: 573 MB
Timba: 513 MB
Conga Habanera: 517 MB
Conga Moderna: 273 MB
Info & Quotes
"These rhythms are just made to dance to, and if this collection doesn't make you want to dance around your studio then, frankly, you should take up stamp-collecting or train-spotting!.. There is no doubting the quality or authenticity... Those who want their samples as genuine as possible will find this an essential purchase. Rated: FIVE STARS out of 5" - Sound on Sound Magazine, UK
"If you are looking for a definitive library of Cuban rhythms, Beats Working in Cuba will blow you away" - Virtual Instruments Magazine, USA
"What a brilliant job they've made of it... Vibrant, highly infectious rhythms... Meticulously recorded in 24bit multitrack format... The musicianship is truly superb... Rated 9/10 - and awarded the MUSIC TECH RECOMMENDED AWARD" - Music Tech Magazine, UK