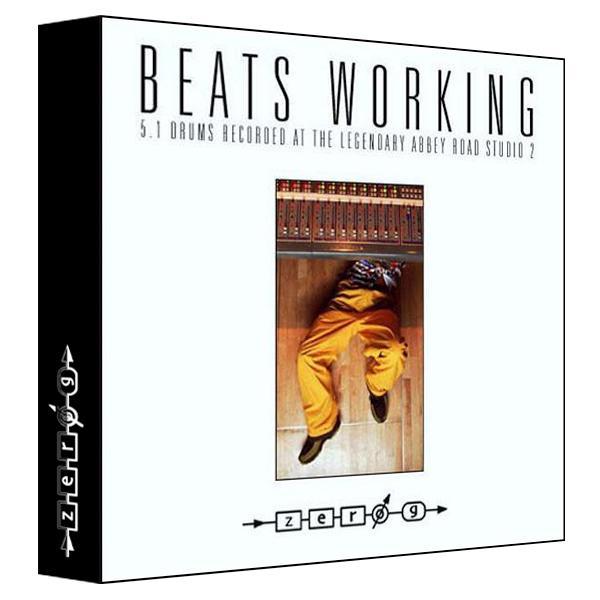 Beats Working
First class drum performance library recorded by the pros at the illustrious Abbey Road Studios
Zero-G, in association with Schtum Ltd, are proud to bring you Beats Working; the highly acclaimed drum groove library recorded at the legendary Abbey Road Studio 2 in London.
Beats Working offers an indispensable toolbox of immaculately recorded, highly usable drum performances, with Intro, Verse, Bridge, Chorus, Drop and Fills of every performance, covering a diverse selection of musical styles from classic pop to big band.
In addition, multiple kicks, snares (both modern and vintage), toms, cymbals and hats were recorded at multiple velocities, giving you the ultimate flexibility to design your own kit.
Recorded by top recording and mix engineer Haydn Bendall (28 years experience at Abbey Road and a first-choice engineer of many megastars), and performed by top session drummer Ralph Salmins, the sound and performances are impeccable.
Utilising high-end esoteric microphone pre-amps, and a direct signal path to a Euphonics R1, it is hard to imagine a purer, cleaner signal path. Abbey Road Studio 2 is the studio made famous by the Beatles, and it hasn't changed at all from the 60s - a beautiful sounding room with a very smooth natural decay, and one of the very finest recording rooms in the world.
Now, you have the power to recreate this very environment for your drum tracks. Abbey Road Studio 2 comes alive in your own studio, allowing you unlimited access to a piece of music history!
PRODUCTION CREDITS:
Recorded by Haydn Bendall at Abbey Road Studio 2 onto a Euphonix R1 Hard Disk Recorder at 24bit / 44.1Khz through a Neve VR console;
Additional mic amps: Avalons with the nice blue LED's.
No compression, reverb or effects were used at any stage of the recording or mixing process.
Edited and mixed at DAT Productions Ltd (now known as Schtum Ltd.), London on Pro Tools version 5.1.1. (on Apple Macintosh)
Monitoring: B&W Nautilus 801 monitors powered by Chord amps.
Produced by Haydn Bendall and Ralph Salmins, for DAT Productions Ltd (now known as Schtum Ltd.), and Zero-G Limited.
All performances by Ralph Salmins.
Assisted at Abbey Road by Paul Hicks.
Drum Techs: Kevin Bell and Julianne Daisy Flowers.
Production Coordination: Cathy Ferrett.
Technical Consultant: Ian Silvester.
Additional Creative Direction: Hamish Hutchison at Zero-G Ltd.
Ralph plays Sabian cymbals, Vic Firth sticks and Remo heads exclusively.

HAYDN BENDALL
Haydn Bendall was employed for over 17 years at Abbey Road, the last ten of them as senior engineer, leaving in 1991, to pursue an independent career. As a result of working at Abbey Road for such a length of time, Haydn was introduced to quite possibly the widest selection of music and productions that any studio in the world could offer. This huge palette develops attitudes and tastes that tend to become more and more catholic as time progresses.
More often than not Haydn found, much to his pleasure, that his preconceived ideas about a particular style of music have been turned upside down, or at least sideways!
Here's an incomplete list of people that Haydn has had the pleasure of working with: A House, Adele Bertei, Aha, Alan Parsons, Al Stewart, Angelo Badalamenti, Arif Mardin, Andy Latimer, Andrew Powell, Anne Dudley, Adam Faith, Abus d'Anges Heureux, Be Bop Deluxe, Beautiful South, Bond, Bill Nelson, Bruce Welch, Bill Myers, BA Robertson, Bonnie Tyler, Balanescu Quartet (The), Camel, Captain Sensible, Chris Hughes, Cliff Richard, Colin Campsie, Climie Fisher, Colm Wilkinson, Carole King, Colin Verncombe,Czech Philharmonic Orchestra, Chris Rainbow, Dave Gilmour, David Bedford, David Essex, Distant Cousins, Damon Albarn, Elaine Page, Elton John, Everything But The Girl, Eddie and the Hot Rods, Fleetwood Mac, Flair, George Martin, Gary Moore, George Fenton, Greg Lake, Greenpeace, Gavin Greenaway, George Benson, Gary Kemp, Guy Barker, Hans Zimmer, Herbie Flowers, Helen Terry, Ian Stanley, Inti Illimani, Jason Halliday, Jeremy Lubbock, Jon Kelly, John Leckie, John Miles, John Williams, Jonathan Tunick, Judy Collins, Justin Haywood, Joey Tempest, Kate Bush, Kiri te Kanawa, Limahl, Labi Siffre, Magazine, Marc Almond, Michael Kamen, Michel Van Dyck, Mike Batt, Mike Howlett, Mike Hedges, Mike Oldfield, Neneh Cherry, Naked Eyes, Nick Ingman, Norman Newell, Paco Pena, Pat Metheny, Patrick Mimran, Paul McCartney, Pet Shop Boys, Propaganda, Paul Carrack, Peter Wafa-Abela, Red Noise, Richard Hewson, Richard Niles, Robert Fripp, Robin Gibb, Rush, Roy Harper, Robin Millar, Roger McGough, Ron Wood, Ryuichi Sakamoto, Sharon Benson, Sarah Brightman,Shelleyan Orphan, Siouxsie and the Banshees, Sky, Steve Booker, Steve Harley, Steve Gray, Sonny Okosun, Trevor Horn, Tina Turner, Tony Mansfield, Tony Visconti, Tori Amos, Toyah, The Adverts, The LA's, The Hollies, Terry Britten, The Shadows, XTC. Plus, extensive recordings with all the major London orchestras and working with remixing film soundtracks for DVD release and producing albums for DVD audio and DVD video.


RALPH SALMINS
Immersed in jazz and R&B from a young age, Ralph had established himself as a professional musician by the age of 16. He studied classical percussion at the Guildhall School of Music and Drama and was awarded the prestigious Philip Jones Percussion Prize for his final recital in 1986.
Ralph's versatility and signature groove have established him as the drummer of choice for producers and composers worldwide, having worked on countless albums, movie soundtracks, TV shows and jingles.
In the early 1990's he toured extensively and recorded with Everything But The Girl. In 1994 he worked with the Count Basie Orchestra and was subsequently invited back for two tours with the band. After that he worked alongside James Brown alumni Fred Wesley and Pee Wee Ellis in Van Morrison's band, with whom he toured for three years recording three albums.
Jazz artists he has worked with include Hank Crawford, Herb Ellis, Art Farmer, James Moody, Jimmy Witherspoon, Mose Allison, Joe Lovano, Annie Ross, and John Lewis on his only ever UK appearance outside the Modern Jazz Quartet. His unique swinging feel can be heard on Bjork's "It's Oh So Quiet" and Robbie Williams' version of "Have You Met Miss Jones?" for the film Bridget Jones's Diary. Movie composers with whom he works regularly include Patrick Doyle, Hans Zimmer, Anne Dudley and Mike Figgis. Resulting movie titles include Evita, Philadelphia, Goldeneye and Great Expectations. Ralph's contribution to TV music includes Absolutely Fabulous, Coupling, Peak Practice and Soldier Soldier. Recent work includes contributing to the album, and playing live in, the Robbie Williams Big Band project "Swing when you're Winning" concert at the Albert Hall which led to appearances on Top Of The Pops, CD:UK and SMTV. West End shows include Me and My Girl and Starlight Express. Recent sessions have seen Ralph working with Madonna, Burt Bacharach, Tom Jones, Elton John, Mike Oldfield, Michel Legrand, Tori Amos and George Martin. Ralph has a keen interest in recording and producing which he pursues in his own studio. Artists who have recorded there recently include Georgie Fame, Hamish Stuart (Average White Band) and Billy Cobham.
DATA FORMAT
This downloadable product is the stereo version which gives you 16bit stereo mixes in .WAV (ACIDized) format.
RECORDING INFORMATION
The Drums were placed about 4 metres in front of the fire exit doors facing the control room.
Microphone List:
Bass Drum:
Neumann FET 47
Snare Drum
Shure SM 57
Hi-Hat
Neumann KM 84i
Toms
Shure SM 57's
Overheads
B&K 4011's
Ambience
Neumann U 87ai's
Far Ambience
Neumann M 50's
Distant Ambience
Neumann TLM 170's


INSTRUMENT INFORMATION
Classic Modern Grooves, Filmic-Type Grooves, Odd-Time Grooves, Big Band Grooves:
Bass Drum: 22" x 16" Gretsch Hexagonal Badge; Batter head: Remo Powerstroke 3 clear; Front Head: Remo Ebony Ambassador with 10" centre hole; Feather pillow touching both heads; Yamaha felt bass drum beater;
Tom 1: Gretsch 10"x8" hexagonal badge;
Tom 2: Gretsch 12"x9" hexagonal badge;
Tom 3: Gretsch 13"x10" hexagonal badge;
Tom 4: Gretsch 15"x15" hexagonal badge; Batter heads: Remo coated ambassadors; Bottom heads: Remo clear ambassadors. No dampening was used on the toms.
Snare Drum: 1960's Ludwig 400; Batter head: Remo coated ambassador; Snare head: Remo diplomat snare.
Cymbals: Sabian: 14" Flat Hats (Non-brilliant); 18" AAX Explosion crash; 18" HH Medium crash (non-brilliant); 20" Encore ride; 21" Vintage ride; 17" HH medium crash; 20" China.
Modern Pop Kit:
Bass Drum: Gretsch 20"x16" Hexagonal Badge; Batter Head: Remo Powerstroke 3 Clear; Front Head: Remo Ebony Ambassador with 10" off-centre hole; Feather pillow on both heads; Yamaha felt bass drum beater.
Toms: As Classic Modern Grooves
Snare Drum: Gary Noonan 13"x5" 2-Part Spun Brass Heavy Shell; Batter head: Remo ambassador coated; Snare head: Remo diplomat snare.
Cymbals: Sabian: 13" AAX Fast Hats; 18" AAX Explosion crash; 18" HH Medium crash (Non-brilliant); 21" Vintage Ride; 17" HH Medium crash; 20" China; 20" Duo ride with 3 rivets.?Sticks: Vic Firth Dave Weckl model; Regal Tip brushes; Vic Firth mallets; Vic Firth multi-rods.
For more detailed info on the contents of Beats Working, please take a look at the PDF of Contents.
"Very cool. Moreover, this library boasts a noteworthy pedigree. Producer-engineer Haydn Bendall - whose credits include Kate Bush, XTC, and Paul McCartney - recorded the drums in Abbey Road's gorgeous-sounding Studio 2. Behind the kit was drummer Ralph Salmins, whose diverse credits run from Tom Jones to Madonna to Björk.. The CD booklet - one of the best I've seen for a loop library - includes a brief but helpful description for each groove.. Among my favorites are the swaying groove of African Style 9/8 118 bpm; the smooth and lovely MK Brush 70 bpm; and the great-feeling, totally solid groove of Medium Pop Tight 94 bpm.. The Beats Working library also includes a variety of jazz grooves, including several big-band "Crooner" grooves and Jazz Brushes 118 bpm, with its easy-flowing feel and beautiful timbre. Speaking of timbre, all the material sounds absolutely fantastic.. Great-sounding drums played in a classic room and recorded by a skilled engineer"
- Electronic Musician Magazine, USA
--
"A solid, traditional library that benefits from the extensive musical experience of its creators. The pop work feels contemporary.. Recorded in a prime location with great acoustics, and superbly engineered.. Haydn and Ralph have also worked on many soundtrack sessions with top names like John Williams and Hans Zimmer, which is fitting, as Beats Working was obviously conceived with the big screen in mind.. The beats stay focused on providing usable backings, and the playing is disciplined and unfussy. After hearing countless sample CDs of drummers with hyperactive right feet, this comes as a huge relief.. The variations are exactly what's required for song construction; the playing is controlled, firm, and unwavering, the loops are perfectly edited, and everything fits together seamlessly. Nice work.. Ralph Salmins plays with good, accurate feel and tempo and the big, roomy Abbey Road sound adds a lovely feeling of space"
- Sound on Sound Magazine, UK
--
"Thick, meaty, rock-solid beats with attitude.. Very impressive drumming and recording quality.. The tones and grooves really are luscious.. This is one of the most impressive drum loop collections I've heard from a tone, taste, and recording quality point of view.. It's a Key Buy Award winner"
- Keyboard Magazine, USA
--

"An exhaustive and smokin' collection of loops.. Salmins displays a command of many different feels on a drool-worthy collection of vintage drums.. Bendall captures their character expertly. Having all this material opens up many creative possibilities.. One of the most impressive and eminently useable drum loop collections I've heard.. Beats Working is a monster library from top to bottom, front to back"
- EQ Magazine, USA
What do USERS think of it?

"In a league of it's own, there's more to this than first meets the eye! An impressive, all round package of drumming styles and techniques, I would definitely make use of the 5.1 capabilities in a live recording situation. These are really excellent, clear samples, recorded in the most famous of studios by a great, creative team. A fantastic addition to my studio and great value for money!"
- Steve Mac - Producer of the Year 2002 (Westlife, Gareth Gates, Will Young).
--

"This is an excellently executed sample library, beautifully recorded, which will prove invaluable to anyone wanting a sample library made for Pro Tools. It has all the qualities of a real drummer without the aggravation."
- Stephen Lipson - Engineer/Producer (Simple Minds, Pet Shop Boys, Annie Lennox).
--

"At last, a sample collection that takes professional working practice into consideration. The ability to create 5.1 rhythm tracks at the drop of a (hi) hat is invaluable. It is soooo nice when someone else has done all that hard old boring work for you! I have used Beats Working for creating an instant 'classic' atmosphere in song writing situations as well as for augmenting productions. The results are immensely gratifying as is the speed with which they are attained. The simplicity of the drumming style makes the loops incredibly versatile and the unfettered recording technique, coupled with the Abbey Road Studio Two acoustic, ensures the impression of immense quality; a timeless sound!"
- Magnus Fiennes, Composer/Producer - All Saints, Bond, Tom Jones, Morcheeba, Neneh Cherry, Eagle Eye Cherry, Roland Gift, "Onegin" movie soundtrack.
--
"So usable, it's obscene! Finally, I've got beautiful recordings of beautiful playing in a beautiful sounding room. Great variations of style and tempi and the recordings have not been messed with, so they can be further squeezed and teased, if desired. Compared to other drum loop discs, these are the best! Why can't they all be this good? Haydn and Ralph - this is gorgeous!"
- Andy Partridge - (XTC).
--

"With such a wealth of low quality, grungy loops around it's so refreshing to have such usable material of the very highest quality. The playing and the recordings are fantastic - the best in the universe, this one at least."
- Mike Hedges, Producer (Travis, Manic Street Preachers, The Cure, U2).
Download Size (zipped file):
Info & Quotes
"Thick, meaty, rock-solid beats with attitude.. Very impressive drumming and recording quality.. The tones and grooves really are luscious.. This is one of the most impressive drum loop collections I've heard from a tone, taste, and recording quality point of view.. It's a Key Buy Award winner" - Keyboard Magazine, USA
The variations are exactly what's required for song construction; the playing is controlled, firm, and unwavering, the loops are perfectly edited, and everything fits together seamlessly. Nice work.. Ralph Salmins plays with good, accurate feel and tempo and the big, roomy Abbey Road sound adds a lovely feeling of space" - Sound on Sound Magazine, UK - read more in Media Reviews
"An exhaustive and smokin' collection of loops.. Salmins displays a command of many different feels on a drool-worthy collection of vintage drums.. Bendall captures their character expertly. Having all this material opens up many creative possibilities.. One of the most impressive and eminently useable drum loop collections I've heard.. Beats Working is a monster library from top to bottom, front to back" - EQ Magazine, USA