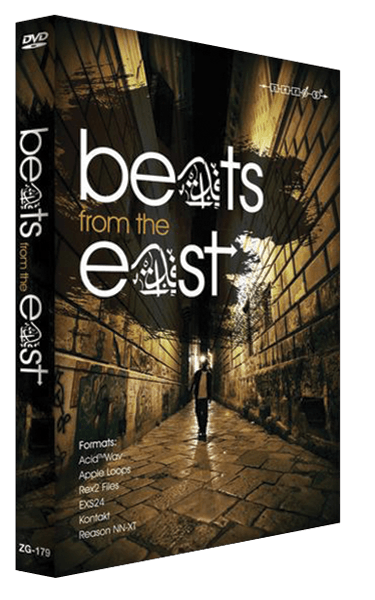 Beats From The East
Ethnic percussive instruments covering all genres plus more experimental beats
Format
Acid,
Apple loops,
Aiff,
Exs24,
Kontakt files,
Rex,
Reason,
Rmx,
Wav,
Nnxt
PDF files
Beats From The East is a huge state-of-the-art beats library containing over 1,150 loops in 24bit audio with over 2.5 GB of content.
It covers all the genres from Hip-Hop & RnB to Techno & House and also more experimental beats. More than half of the collection features the use of ethnic percussive instruments (tabla, dholak, kanjira, ghatam, yak bera, geta bera, thammattama, udakki, raban, clay pots, bamboos, conga, djembe, darbuka etc).


This enormous beats collection has been a 7 year long project of the South Asian beats guru and No.1 hit producer Eranga Jayawansa using the latest technology combined with authentic ethnic percussion to give the beats extra individuality and spice. The beats and breaks have been mixed and cut to perfection to ensure that they can be used in any modern music production.

The library features nu skool and old skool hip-hop, rnb, crunk, trip-hop and electro pop, tribal house, electro house, progressive, dnb, trance, techno and IDM and many of the beats can be used in multiple genres and offer fantastic bang for the buck for any urban or dance producer.

All the beats have been created in Stylus Rex2, Acidized Wav and Apple Loop formats and are compatible with all major music software applications.

All the samples have been pre-cleared and are 100% original and royalty-free for your musical use without any additional licensing fees!
From the library's producer Eranga Jayawansa:
"The project started when I was in Los Angeles experimenting with sound design and production. Beat making was what I was most passionate about then. I was also inspired by the ethnic percussive sounds I've heard in my native country and I wanted to use those sounds with the modern electronic beats to create something unique. I decided to go back home to start recording for the project. When I started working with local artists on production and got involved heavily after a while, I started to produce more Hip Hop and Rnb music, because it was more popular. The beats project not only delayed because of that but also changed direction."
Includes:
1152 Acidized WAV files
1152 AIFF Apple Loops
1156 Stylus compatible REX2 files
47 EXS24 Instruments
47 Kontakt Instruments
47 Reason NN-XT Instruments
For more detailed info on the complete list and descriptions of the contents of Beats From the East, please take a look at the PDF of Contents.
Download Size (RAR files):
Parts 1 - 5: 999 MB each
Part 6: 163 MB