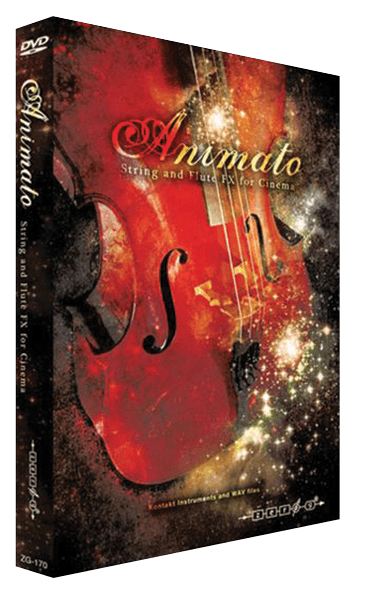 ANIMATO
Orchestral effects library recorded the Royal Liverpool Philharmonic Orchestra
Zero-G and Xfonic present Animato String & Flute FX for Cinema - 4.5 GB of 24bit cinematic audio inspiration!

Animato contains 3000 samples and 139 separate Kontakt instruments each with its own custom GUI created especially for this project. It now forms part of a quartet of impeccably real sectional orchestral sample libraries with Spiritoso Live Cello Phrases, Perpetuo Live Flute Phrases and Luminoso Live Violin Phrases.
Featuring world-class instrumentalists from the renowned Royal Liverpool Philharmonic Orchestra, Animato is a uniquely realistic, expressive and playable Orchestral Effects library.
With a wide sonic range from chaotic, tense effects to beautiful undulating pads. Distant pianissimo sirens can shift seamlessly to fortissimo ungodly screeches all at the simple command of your Mod Wheel.

The 20th century saw the extreme sonic possibilities and expressive potential of classical instruments gradually become standard compositional tools of pioneering concert and film composers. Now at last, many of the best and most exciting possibilities are presented here in an easy to control format utilising the massive sonic capabilities of Kontakt enabling you to change microphone positions or ensemble size at the turn of a knob.
The unique depth and complexity of sound presented here is the product of many players playing complex, changing parts together – a quality heard in full live orchestral performances but impossible to re-create using standard orchestral sample libraries, where stacking up many straight-played notes in a sequencer only results in a flat, straight-played sound.

This library is perfect for adding realistic strings and woodwind effects to soundtracks, TV programmes and games but it is also ideal for contemporary commercial producers looking for authentic live sounds that give their productions a leading edge.
ABOUT THE LIBRARY
The starting point was to make this library perfect for creating soundtracks to films, TV programs and games, with a leaning towards the eerie and tortured. However, for contemporary commercial pop/rock/hip-hop production you will also find some of the most beautiful pads you'll ever hear. It is also ideal for contemporary commercial producers looking for authentic live sounds that give their productions a leading edge.
It started with a problem: how can you get world class orchestral effects, that sound like a real orchestra playing, which are highly expressive, completely controllable and easy to play, and yet avoid having to pay for £10,000 recording sessions? After sifting in vain through commercially available premium orchestral sound libraries, producer Dan Graham found nothing that could fulfill all of these requirements.
And so, he set out to record his own dream orchestral sample collection – all the weird and wonderful effects he'd employed in his own live orchestral recordings – something that would be complex, alive but easily controllable with a Mod Wheel.
Recorded over a week in May 2010 at Liverpool's famous Parr Street Studios (Coldplay, Genesis amongst others), four world class Royal Liverpool Philharmonic Orchestra players were heavily multi-tracked up to create 16 violins, 8 cellos, 6 flutes and 6 piccolos for that big ensemble effect.
20 hours of stereo 24bit 44.1kHz audio was painstakingly edited down, looped and programmed in Kontakt 3.5 over 3 months by Dan Graham, programmer Andy Flett and scripter Mario Krušelj until this beautiful library was finished and put to immediate effective use on a series of tracks for movie trailers. Tried, tested and satisfied, the collection was then finally handed over to Zero G so that these wonderful sounds could be shared with the most demanding composers and producers in the world.
THE SOUNDS:
LIVE vs MUTATED: The Kontakt Instruments are divided into two top categories – Live and Mutated:
The Live Instruments present the sounds as they were recorded – no effects, pitch shifting, time stretching or other audio trickery. You should use these for realism and expensive orchestral depth.
The Mutated sounds have been bent and tortured every which way – time stretched, pitch shifted, effected, reversed, distorted and so on. Being built from real orchestral recordings they always exude organic class, even when the result is distinctly synthesized.
MICROPHONE POSITIONS:
The performers were recorded at 3 mic positions: close, overhead and room. You can access each of these channels from the user interface. The mic positions each have their own character, and your blend will depend on your needs.
The Close versions are great for dry, close-up intimacy.
The Overhead versions have a rich, well-balanced clarity, while the Room versions are more wide and cinematic.
LARGE ENSEMBLE vs SMALL ENSEMBLE:
The Live sounds are mostly presented in Large Ensemble and Small Ensemble versions – typically this will mean 6 to 16 players on the Large Instruments and 2 players on the Small Instruments.
As you'll hear, the small versions give a more intimate sound while the larger versions have more power.
THE LIVE INSTRUMENTS
ATONAL ATMOSPHERES:
These are looped, unpitched Instruments with a high degree of Mod Wheel control from delicate softness to screechy power. Generally speaking they have overtones of suspense and horror, and fall into the following sub-categories:
Eerie Sirens: Here, notes slide slowly around a semitone interval, producing an eerie emotional effect like 'things are going wrong, and something awful is about to happen'.
Swarm: Here, notes are played tremolo (rapid bowing (strings), or flutter tongue (flutes)), while moving rapidly and randomly around a one-octave interval. The effect is one of chaos, as if many bad things are arriving at the same time – perfect to represent insect swarm or zombie attacks.
Sick Swirl: Similar to Swarms, but played legato not tremolo, the effect is one of nausea, vertigo and awful realizations.
Pizzicato Swarm (strings only): Random pizzicato notes played across a one-octave range, this sounds like a swarm of many bad little creatures.
Needle Swarm (strings only): Random col legno notes (played by tapping the strings with the back of the bow), similar in effect to Pizzicato Swarm, but the creatures are smaller and more scurrying.
Air Needle Swarm (flute & piccolo only): Similar in concept to the string Needle Swarm, the effect is something like an attack of mechanical wooden birds.
Solo Creaks (strings only): This set is velocity sensitive rather than Mod Wheel controlled and gives you a big set of cello and violin creaks, created by dragging the bow intensely against the strings. They might suggest squealing pigs or (say) a haunted house with an evil no-faced grandma rocking contentedly on her chair just before hurling knitting needles into your eyes. Or creaking old ships and taut ropes about to break.
PITCHED PADS:
These are played on specific notes and spread across the keyboard so they can be used for chords or notes that harmonize with the rest of your score.
Celestial Tremolo (strings only): Quiet tremolo notes with occasional loud notes, panned around so that the louder notes only hit randomly and sparsely, like the twinkling of stars. A good twinkling effect is with minor 6th or augmented 5th chords in the high registers, with a more tense and dark feel in the lower cello registers.
Trembling Needles (strings only): Similar to Celestial Tremolo but played with the clicky taps of col legno (tapping the strings with the wooden back of the bow). The atmosphere is light, tense and expectant.
Pizzicato Sea (strings only): Also similar to Celestial Tremolo but played pizzicato. Suits being played with a random cluster of notes to give a sense of dislocation and strangeness.
Undulations: An oasis of beauty; gentle vibrato notes drift in and out, creating elegant natural movement while a chord is held down.
Shivers (flute & piccolo only): similar to Celestial Tremolo but on flutes, the mood is suspended and tense.
Sung Harmonics (flute and piccolo only): an unearthly sound created by the female flautist singing wavering notes that clash against the simultaneously played notes, creating strange harmonic interferences. Great for a feeling of otherworldly oddness.
RISES:
These Instruments are velocity sensitive rather than reacting to the Mod Wheel, and generally consist of starting low and ending high. These sounds should be familiar from film scores and movie trailer music.
The flute and piccolo versions also include extra fast rises and falls, perfect for suggestions of flying, wind or birds.
As a usage tip, you can create your own custom rise sounds by playing different notes at the same time – they are designed to all end at exactly the same time. For example, you may wish to trigger all the pp rises together for a large ensemble but soft rise, or sprawl both hands across every note for a 100-player mega-rise.
THE MUTATED INSTRUMENTS:
These heavily programmed sounds follow the same overall categories as the Live Instruments – Atonal Atmospheres, Pitched Pads and Rises – but they are no longer bound by the need to be as realistic as possible. For example they extend into bottom bass registers (rather than going no lower than the flute or cello bottom range), and come with a myriad of ear-catching sonic manipulations including filters, distortion, effects, EQ, compression, reversing, time stretching, pitch shifting, envelopes and LFOs.
However, nothing was done for the sake of tweaking – every sound has an expressive purpose hinted at in its colourful title.
The Atonal Atmospheres bring you extreme, eerie, complex ambiences.
The Pitched Pads bring you some of the most outstandingly beautiful and emotional pads you'll ever hear, while the rises bring you all manner of dark and filthy specimens, dragging you in a multitude of corrupt ways from deep in the bowels of hell up to the heights of ear-bleeding agony.

For a detailed breakdown of the instruments included in the Animato library, please see the PDF of Contents. Meanwhile, for a list of MIDI CC assignments, please see the PDF of MIDI CC Assignments.
"Animato is an essential addition to any composer's toolkit! The low end on the pads is fantastic and the live organic textures in the strings and piccolos are beautiful. Perfect for adding spice to film and TV projects." – Verbal Vigilante (Credits: Universal Pictures, Momentum Pictures, BBC, ITV, Channel 4, Sky TV)
--
"There's some really fantastic textures and sounds in there that can you blend into your own compositions without sacrificing your own voice. Unusual yet useful sounds, wonderfully programmed – one of the best orchestral sample sets I've played with for ages. And at a price that puts its rivals to shame – bargain of the year without a doubt!" - Daniel Pemberton, composer (PS3 Little Big Planet, over 150 TV shows for BBC, Channel 4, ITV). www.danielpemberton.com
--
"Animato is a rare thing among orchestral sample libraries. It's not trying to be "like" anything else. The sound palette is unique, highly usable, and best of all, inspiring" - Iain Roberton, producer, programmer, engineer (William Orbit, Trevor Horn, U2, Blur, Robbie Williams, Pink, Beth Orton, Spooky, Morrissey, etc).
--
"I've had a bit of a chance to use it this past week and I have to say that it's perfect for suspense/horror scores. I'm a big fan of performance based patches and found it really easy to use and quick to drop the articulation needed into a track. The sound of the library itself is really nice. It fits in well with my other libraries perfectly - I've been using Symphobia for effects so far, but this is like a much more customisable and usable alternative.
From a usability-end the UI keeps things nice and simple and being able to mix the mics manually is great. Being able to quickly switch between convolution and standard reverb is really handy for when I'm working on big projects that eat my CPU cycles.
So far I've only scratched the surface but I get the feeling I'll be using it for a while. I just love how quickly you can find the sound you need and bring it into a piece of work." - Blake Robinson (Programmer, Composer, Designer)
Download Size (RAR files):
Parts 1 - 6: 500 MB each
Part 7: 398 MB
Info & Quotes
"A unique collection of terrifying, beautiful and tension-inducing orchestral sounds... The audio quality is outstanding and many of the patches have an instant Hollywood sound... One of the most evocative cinematic tools we've come across... Rated 9 out of 10. Awarded the Music Tech INNOVATION AWARD" - Music Tech Magazine, UK
"Zero-G deliver the goods again.. the standards of production and playing are absolutely first rate.. a seriously versatile collection.. Excellent. Rated 9 out of 10" - Future Music Magazine, UK
"A library of string, flute and piccolo performances with a twist. It happily provides the dark and moody textures that typically underlie the most chilling of film scenes. You can expect kits of high-pitched whining and squealing, next to rich-but-soft ambiences that bubble and swell. Some of the effects are so dramatic they enter the realm of the theatrical. The library presents each instrument in live and mutated versions, the latter delving even further into eerie and unnatural territory.. You'll definitely want to use the Kontakt instruments. Rating: 9/10" - Computer Music Magazine, UK