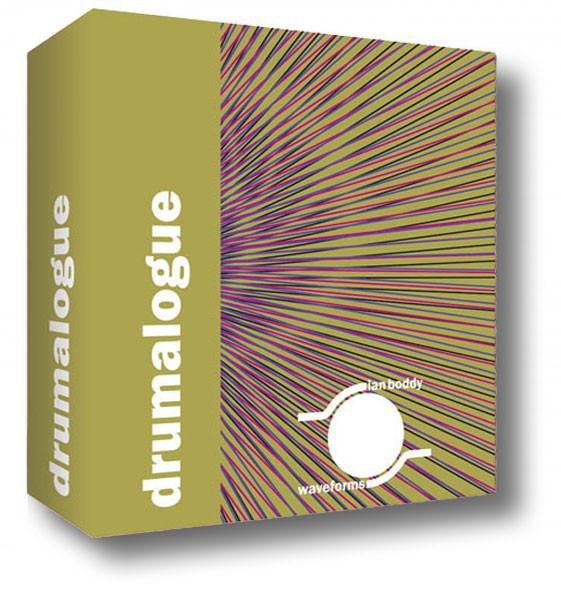 Drumalogue
1,000 analogue drum, percussion and one-shot hits from the legendary Ian Boddy
Welcome to Drumalogue, an exquisitely hand-crafted and masterfully produced drum and percussion from well-respected UK sound designer Ian Boddy.
This is a library of 1,000 analogue drum, percussion and one-shot hits. However these are not taken from vintage drum machines (of which there is already plenty of content available elsewhere) but rather all the sounds are hand crafted by Boddy on vintage analogue synths and modular systems.
They run the full gamut from thunderous bass drums, crisp snares & hats through to abstract synth hits & FX and even weird glitchy & industrial sounds.
The sounds are a mixture of mono and stereo samples and some have genuine analogue effects printed on them from spring reverbs, bucket brigade delays and phaser/flangers. This all adds up to a cornucopia of drum and percussion sounds that can be used in virtually any style of production.

The sounds are also mapped out in Kontakt 2 programs with a basic envelope and low-pass filter provided. The modulation wheel is set to turn the cut-off of the filter down as it is raised. These programs are presented in three different ways. The Audition programs present all the sounds per category with one sound per key starting at C1. The 18 Kit patches follow as closely as possible the General MIDI Percussion Key Map from B0 (Key35) to B2 (Key59) and provide a convenient way of playing some of the sounds as "drum kits".
Finally, there is a range of sounds key-mapped out in Patches. No other programming is included as the sounds themselves are "finished" and it is intended to give the customer the flexibility of adding their own effects and modulations if desired.

Drumalogue is also available as part of Odyssey: an amazing value compilation of eight Ian Boddy sound design libraries, including Outer Limits, Ambiosis, Elektrolytic, ASL, Airwaves, Beatalogue and Radiophonica. Click here to go to the Odyssey product page.
Drumalogue is the third title in Ian Boddy's Waveforms series of sample libraries. Grab a taste of the series by downloading the 113 MB of FREE sample content with our free sample promo pack!
This taster pack contains over 100 samples from the series, and includes PDF copies of all the user manuals. NOTE: The samples in the Promo Pack are for demo purposes only and cannot be used for commercial purposes. If you need to include the demo samples in your commercially released music you must purchase the full version(s) of the product(s).
About the WAVEFORMS Series:
Waveforms is a series of downloadable sample libraries from well respected UK sound designer Ian Boddy (of Something Else Music Ltd) who has been producing sample libraries for 16 years. His work includes Ambient Volumes 1 & 2, Malice in Wonderland, Morphology, Analogue Sequencer Loops, Outer Limits, Dream Zone and Electric Dreamz.
His musical career actually goes all the way back to 1980. Since then he has released over 30 solo & collaborative CDs, performed over 100 concerts in the UK, Europe & the USA and runs the highly respected ambient music label DiN which has currently released 31 CDs.
Furthermore, he also composes library music for the UK's largest independent library music company DeWolfe having written 10 such titles for them to date.
All the Waveforms libraries are comprised of 500 - 600 MB of 44.1KHz, 24Bit WAV files. For your convenience Native Instruments Kontakt 2 patches are also provided for each sample as well as audition programs for all the sounds in a single category where the individual samples are mapped out one per key ascending from C1.
Technical Data:
1000 samples at 44.1Khz, 24bit in WAV format.
Mixture of stereo & mono samples.
Raw audio recorded from the following analogue synthesisers:
- Roland System 100-M
- Analogue Systems
- Doepfer A-100
- Analogue Solutions
- Livewire AFG
- VCS3
- Minimoog
- Metasonix TM-2 tube BP filter
Recorded directly into Apple Mac using RME Fireface 400 audio interface.
Samples edited in Bias Peak Pro 5.
Native Instruments Kontakt 2 support provided.
Recorded & produced by Ian Boddy
Demo loops by Ian Boddy, Dean De Benedictis, Nigel Mullaney, Pat Mastelotto & Bernhard Wöstheinrich.

For more detailed info on the contents of Drumalogue, please take a look at the PDF Manual.
"The digital drum world seems to be flooded at the moment with realistic sampled instruments and vintage drum machine loops, but there are only so many sounds you can make with an 808. Respected UK sound designer Ian Boddy has been producing sample libraries since 1992, and for his latest release he has hand-crafted a huge collection of drum, percussion and one-shot hits using vintage analogue synths and modular systems.
Drumalogue comes as a low-priced 360 MB digital download that contains more than 1,000 WAV hits at 24bit / 44.1KHz resolution plus an additional folder of programs mapped out in Kontakt 2 format. The programming is excellent, offering an astonishing choice of sounds. The kicks are all deep and solid and the one-shots range from low rumbling shudders to shrieking overdriven thuds.
Although some of the hits may be a little too unusual to fit into your productions, there is enough variety to achieve a host of extremely usable effects alongside what is possibly the most creative use of white noise you'll ever hear. Among the gear used to create the sounds are classics such as the Roland System 100-M, Doepfer A-100, Minimoog and Metasonix TM-2 tube BP filter. They were recorded via an RME Fireface 400 audio interface.
This is a great collection in which all of the sounds have been produced-up sufficeintly to give character, but left simple enough should you wish to apply your own effects. If you are looking to build an original electronic drum sound that is a little different from the norm, then this pack could be exactly what you need.
VERDICT: More than just a collection of synth drums, this is the ultimate catalogue of short, simple synth noise. Rating 8/10"
- Music Tech Magazine, UK
Download Size (zipped file):
Info & Quotes
"More than just a collection of synth drums, this is the ultimate catalogue of short, simple synth noises." - Music Tech Magazine, UK

"If you enjoy producing techno, house, minimal, dubstep or drum and bass with a raw edge then Drumalogue is going to be right up your street." - IDJ