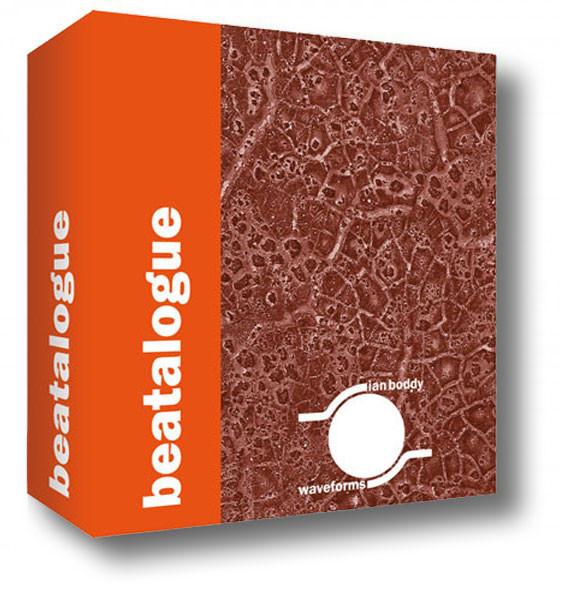 Beatalogue
Filtered, mangled and messed up electronic drums
Welcome to Beatalogue, another finely crafted and expertly produced library palpating percussion and drums to new levels from well-respected UK sound designer Ian Boddy.
As a follow up and companion to Drumalogue, Ian Boddy's Beatalogue takes as it's starting material a selection of electronic drum patterns and loops which are then fed through his massive modular synth system. These are then filtered, mangled and generally messed up using a huge number of modules all in the analogue domain.
All the loops have between 3 and 5 variations and sonically range from sweet filtering all the way through to completely crunched and twisted mayhem. The quality of the distortion and overdrive achieved using these techniques gives the loops a gorgeous organic feel which is further heightened by the sound of the modular itself with it's fuzzy warmness and tripping envelopes.

The sounds are also provided in Rex2 and Apple Loops format enabling them to be used at various tempos and dissected by the end user for their own purposes.

Beatalogue is also available as part of Odyssey: an amazing value compilation of eight Ian Boddy sound design libraries, including Outer Limits, Ambiosis, Elektrolytic, ASL, Airwaves, Drumalogue and Radiophonica. Click here to go to the Odyssey product page.
Beatalogue is the fourth title in Ian Boddy's Waveforms series of sample libraries. Grab a taste of the series by downloading the 113 MB of FREE sample content with our free sample promo pack!
This taster pack contains over 100 samples from the series, and includes PDF copies of all the user manuals. NOTE: The samples in the Promo Pack are for demo purposes only and cannot be used for commercial purposes. If you need to include the demo samples in your commercially released music you must purchase the full version(s) of the product(s).
About the WAVEFORMS Series:
Waveforms is a series of downloadable sample libraries from well respected UK sound designer Ian Boddy (of Something Else Music Ltd) who has been producing sample libraries for 16 years. His work includes Ambient Volumes 1 & 2, Malice in Wonderland, Morphology, Analogue Sequencer Loops, Outer Limits, Dream Zone and Electric Dreamz.
His musical career actually goes all the way back to 1980. Since then he has released over 30 solo & collaborative CDs, performed over 100 concerts in the UK, Europe & the USA and runs the highly respected ambient music label DiN which has currently released 31 CDs.
Furthermore, he also composes library music for the UK's largest independent library music company DeWolfe having written 10 such titles for them to date.
All the Waveforms libraries are comprised of 500 - 600 MB of 44.1KHz, 24Bit WAV files.
Technical Data:

300 mono samples at 44.1Khz, 24bit in WAV format.
All samples also provided in Rex2 & Apple Loops format.
Drum loops sourced from Logic Ultrabeat, NI Reaktor & Kontakt, Sonic Charge Micro Tonic.
Drum Loops filtered, mangled & messed up via the following analogue synthesisers:
- Roland System 100-M
- Analogue Systems
- Doepfer A-100 modular system
- Analogue Solutions
- Livewire AFG, Vulcan & Dalek Modulators
- Metasonix TM-2 Tube BP filter & R-53 Tube Waveshaper/Ring Mod
- Flight of Harmony Plague Bearer
- The Harvestman Malgorithm
- WMD Geiger Counter
- Make Noise QMMG
- Minimoog
- VCS3
Master tempo & auxillary voltage control provided by MOTU Volta via MOTU 828 interface.
Recorded via TLAudio Ebony A2 tube stereo processor into Apple Mac using RME Fireface 400 audio interface.
Samples edited in Bias Peak Pro 5.
Rex2 files edited in RecycleV2
Apple loops edited in Apple Loops UtilityV3
Recorded & produced by Ian Boddy
For more detailed info on the contents of Beatalogue, please take a look at the PDF Manual.
Download Size (zipped file):
Info & Quotes
"...we were very impressed by the novel sounds here, and although it's a small pack, its uses should be many." - Computer Music Magazine, UK (Rating 8/10)
"Organic-sounding glitch grooves, especially useful for quirking up your beats." - Music Tech Magazine, UK (Rating 8/10)