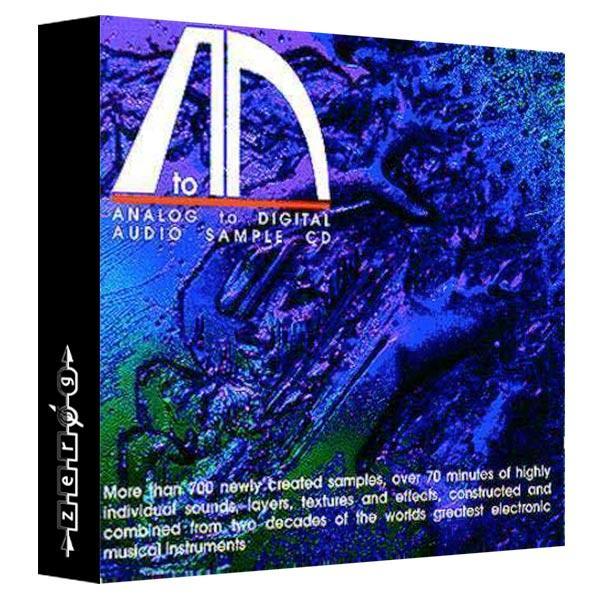 Analogue To Digital Vol 1
Over 700 highly individual sounds, layers, textures & FX heralding the worlds greatest electronic instruments.
Over 700 highly individual sounds, layers, textures & FX, constructed & combined from two decades of the worlds greatest electronic instruments. Ambient, Techno, Trance, Film, Rock, whatever... 'A2D' Volume 1 will inspire you with fresh sounds. Includes - Mind blowing electronic loops & arpeggiations; Amazing pads & textures; Unique treated drums; Trance tones & chords; Superb combined analog and digital layers.
Many of the sounds featured in the A2D Volume 1 collection have been designed to offer maximum flexibility when sampling. Experiment with editing the sounds, create totally new effects by cutting, crossfading, combining and filtering.

The 'Raw Waves' sections contain thousands of individual small samples which can be easily looped, enveloped and filtered to create powerful new sounds which only use very small amounts of precious sampler memory. Simply choose the point in the 'raw wave' sample which is most suited to the sound you wish to create, sample a small amount, fix the loop point and, hey presto, instant classic analog synth!

The drum and percussion sounds have been created from synth and electronic sources and are designed to be an addition to your library, try combining them to get the best sounds.

The loop sections have been designed to be used as they are or cut up. Wherever possible samples have been cleaned so you can reconstruct new loops, they can also be used as 'raw waves' or one shot samples.
For a complete list of the contents of Analogue To Digital Volume 1, please take a look at the PDF of Contents.
Instruments used include:
Roland Jupiter 6 SCI; Pro 1; Yamaha DX7; Korg 01/W; ARP Omni 2; Emu Emax II; Roland TB303 Bassline; Korg M1 SCI; Pro 5 Moog Prodigy; Crumar Multiman; Korg MS10; Roland Jupiter 8; Korg Wavestation A/D; Bit 99 Akai S950/1000; SCI Sixtrack; Roland MKS 50; Waldorf Microwave; Korg Mono/Poly; Minimoog; Emu Proteus 1,2,3; EDP Wasp Gem S2; Oberheim OBX; Roland JD800; Yamaha TG77; Korg DW 8000; Moog Opus3; Korg T1; Roland SH1000; Transcendent Polysynth; Cheetah MS6; Roland D70; Yamaha TX802 and many more...
Download Size (zipped file):
Info & Quotes
"An impressively wide inventory containing 800 synth sounds... Verdict: Yup! I'll have one of those!" - SOUND ON SOUND Magazine, UK