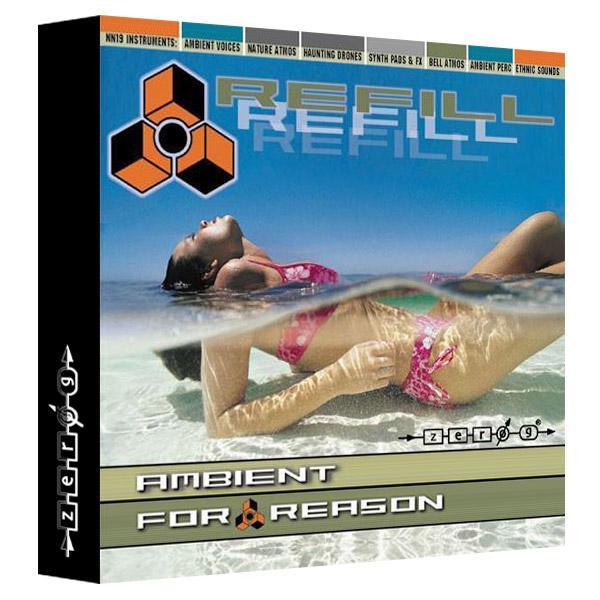 Ambient For Reason
Digital drones, pads and effects conjuring up deep space hyperdrives through sinister alien landscapes
This huge REFILL features the combined contents of both of the original AMBIENT sample libraries (AMBIENT Volume 1 and AMBIENT Volume 2) - Over 470 Mb of stunning sounds produced by highly acclaimed British electronic musician Ian Boddy. There's a fantastic array of dreamy NN19 atmospheric and FX patches for use in ambient dance, trance, film soundtracks or futuristic/ spacey/ trance music of all kinds. Combining the hypnotic charms of Jarre, Floyd, Tangerine Dream and so on with current dance trends, "Ambient" is designed to mellow you out with relaxing washes, laid back rhythms and awesome sound effects.

An impressive inventory of analogue and digital synths were used to create these well organised stereo samples, including Roland System 100m, SVC3 vocoder, JD990, Korg Wavestation, EMS VCS3, Memorymoog, PPG Wave, and Oberheim Matrix 6 and 12. There are digital drones, pads and effects (all very lush stereo) conjuring up deep space hyperdrives through sinister alien landscapes, etc. A beautifully realised sound palette, the effects really are are as good as you get - smooth, long, ring modulators, digital cascades and arpeggios, filter sweeps of just about every denomination, computer tone bursts, gong sustains, synthetic winds, computer FX (like Kraftwerk c.1975), low drones and sweep-downs, mysterious machinery, anharmonic arpeggios, electronic noise bursts, tubular bells, tasty vocoder loops, etc.
Both volumes (1 and 2) are included in this download, within the Reason Refill.
In addition to providing the whole library within a single Refill file, this package also provides all the samples separately as NN19 patches and ACIDized WAV files, so this version of the Ambient library can also be used with any software that can import WAV data.
Both volumes (1 and 2) are included in this download, within the Reason Refill.
2444 NN-19 Patches
2027 REX2 Files
26 Redrum Kits
Over 700 MB Sound Data (raw)
Over 9000 Samples In Total
For a detailed list of every sampler patch included on this Reason Refill version, please take a look at the PDF of Contents.
"This Ambient CD is definitely a grower, capable of adding some real depth to your spookier tunes."
- CU AMIGA UK
--
"Whatever type of music you're making, there's a place for this disk in your collection."
- MELODY MAKER UK
--
"[Ambient Volume 1 is]....Bound to appeal... An army of whooshy, metallic, analogue, and other textures... Good weird atmospheres... Hits the mark squarely... This is good stuff.....[Ambient Volume 2 has] an impressive inventory of analogue and digital synths.. well organised, in stereo.. beautifully realised... effects are as good as you get.. I'm going to buy one, case open and shut.. Following on from the successful Ambient sampling CD, Vol. 2 would make a good complementary volume. If you can only afford one ambient library, well this CD certainly covers far more bases, from lush digital textures to BBC radiophonic workshop. Engineering is excellent. The quality of this library will not disappoint. Five stars"
- SOUND ON SOUND, UK on both Ambient Volume 1 & 2
--
"..A non stop feast.. The sheer variety is stunning.. It would take years and tons of gear to accumulate this collection on your own. The range of textures and moods is remarkable. The synth programming is very creative.. Filter and noise sweeps, low moans, beeping twitters, slowly spinning clangorous tones, disturbing analog burbles, ring-mod gargling, glassy shimmers abound.. These are exciting sounds. I can't wait to try a few of them out in a track! SOUND QUALITY: 5 stars. SELECTION: 4 stars. BANG FOR THE BUCK: 5 stars"
- KEYBOARD USA
--
"...This is an impressive assortment of samples that covers far more than ambient territory... In all, a large range of excellent sounds to spice up a conventional rhythm track... Perfect for making Orb-style trance records. Highly recommended. 8/10"
- FUTURE MUSIC, UK
Info & Quotes
"...This is an impressive assortment of samples that covers far more than ambient territory... In all, a large range of excellent sounds to spice up a conventional rhythm track... Perfect for making Orb-style trance records. Highly recommended. 8/10" - FUTURE MUSIC, UK
"[Ambient Volume 1 is]....Bound to appeal... An army of whooshy, metallic, analogue, and other textures... Good weird atmospheres... Hits the mark squarely... This is good stuff...[Ambient Volume 2's ] engineering is excellent. The quality of this library will not disappoint. Five stars" - SOUND ON SOUND UK on both Ambient Volume 1 & 2
"..A non stop feast.. The sheer variety is stunning.. It would take years and tons of gear to accumulate this collection on your own. The range of textures and moods is remarkable. The synth programming is very creative.. Filter and noise sweeps, low moans, beeping twitters, slowly spinning clangorous tones, disturbing analog burbles, ring-mod gargling, glassy shimmers abound.. These are exciting sounds. I can't wait to try a few of them out in a track! SOUND QUALITY: 5 stars. SELECTION: 4 stars. BANG FOR THE BUCK: 5 stars" - KEYBOARD USA