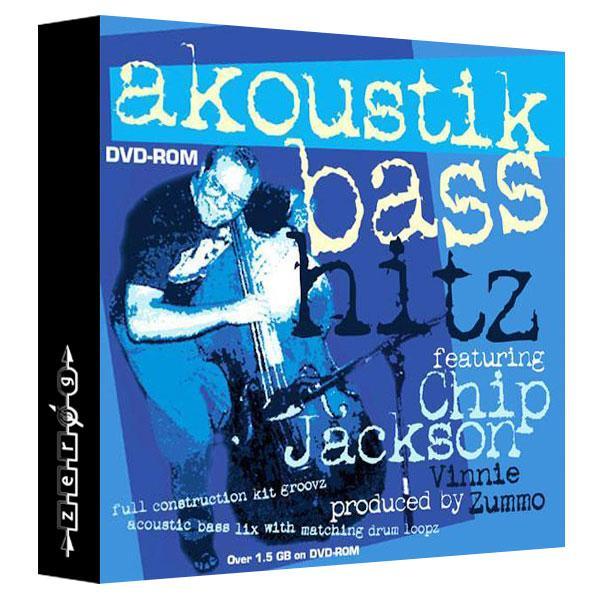 Akoustik Bass Hitz
Slammin' taste of NYC-style sweaty, fonky-ass, acoustic bass & drum loops
Chip Jackson is a world class musician who has worked with everyone from Elvin Jones, Horace Silver & Wynton Marsalis in the jazz world, to Natalie Merchant in the pop realm. Together with Vinnie Zummo, producer of the award winning New York Cutz series of sample CDs, Zero-G bring you this slammin' taste of NYC-style sweaty, fonky-ass, acoustic bass & drum loopz. "Chip Jackson's playing has 'attitude' written all the way through it... FIVE STARS out of 5" (Sound On Sound, UK). Includes both ACIDized WAV and REX formats.

This is not your average acoustic bass collection! In addition to the Jazz tip that Chip is famous for, there's around 500 individual bass lix and full band construction kits, in every style imaginable, including: Retro Lounge, Hip Hop, Latin, 60's English, Rock-a-Billy, Dance, Zydeco, Acid Jazz, Fast Jazz, Abstract Jazz, Swing, Folk, Heavy Metal (these metal tracks will make your speakers rumble!), Reggae, Ska, Wa lix, Bow Voice lix, Acoustik Fuzz Bass, Atmospherics and on & on.

The over 100 matching drum loopz programmed or played by Vinnie Zummo, cover the same range and beyond. The live drum loops feature 2 or 3 separate fills as well to make it easy to program your own music. There are also plenty of guitar, rhodes, organ tracks, & even some banjo, dobro, & mandolins within the construction kitz to make this CD a slammin' bargain. Make your tracks growl & snort with some authentic New York attitude!
List of Construction Kits Included:
3_4_jazz
Akstk Bs In Da' Rm Nxt Door
Bass Shorties
Blue Grass tip
Chip a Billy
Chip bow vox lix
Chip In Da Jungle
Chip Ska
Dance tip #2
Dancin fool
Dig it Jazz
Electron Lounge
Fast Jazz
Folky
Fonky Bass
Fonky slidy
Go Go
Gumbo
Hip Hop Loopz
Jazz Dance Tip
Latin Tip
Low Blowz
Monster Metal
- Bone Krunch
- Chugger
- Fuzz Head
- Hero
- Metal Bizness
- Steel Lace
- Zep Chiplin
More 2 fers
On the Jazz tip
Random Skank Groovez
Retro Acid Kool
Retro Lounge #1
Retro Lounge #2
Safari Lounge
Space Lounge Tip
Space Reggae
Spacy
Stank Groove #2
Stoopid 2 fers
Stoopid Time
String tip (60s)
String tip (Da Klassix)
Download Size (zipped files) :
Part 1 : 545 MB
Part 2 : 568 MB
Part 3: 410 MB (REX)
Info & Quotes
"A number of things stood out. First, the quality of the acoustic bass playing is excellent. Chip Jackson's playing has 'attitude' written all the way through it, and whatever musical context these loops are used in they will add a distinctive character of their own... Second, the sound of the bass is huge and feels very 'live'. Of course, some of the loops are laid back and cool, but there are just as many that have a tremendous amount of energy, with loads of finger noise to add character - just take care with your speakers, as the bottom end of this lot will really get those cones moving!... The other loops provided are equally inspiring ...There is easily enough material here to construct complete rhythm sections and some full backing tracks without dipping into other libraries.... Perhaps the most interesting feature is the range of musical styles covered... What is really impressive is the speaker-shaking sound and attitude of the playing. If you don't usually consider acoustic bass to be part of you musical palette, Akoustik Bass Hitz might just change your mind. FIVE STARS out of five." - SOUND ON SOUND magazine, UK

"This is surely going to go off the cool scale right?! Actually, yes, it does; with Jazz doing the rounds and trendy again for the 200th time, there are parts of this that are too clever for their own good... You get some lush acoustic flicks, some great shuffling beats - hell you can almost smell the smoke... There's a mad unexpected range of material" - FUTURE MUSIC magazine, UK
"There is surely no finer example of the symbiosis that exists between that of the drummer and acoustic bass player - and very few that would eclipse the performances put in by bassist Chip Jackson and drummer/instrumentalist Vinnie Zummo on Akoustik Bass Hitz... a huge amount of material that will appeal to a broad range of users... Zummo matches Jacksons's bass lines with drum loops and reveals his versatility as a musician within the construction-kit format... Unlike any other samples collection you've ever come across, Akoustik Bass Hitz will take your music into areas it's never been before" - MUSIC TECH magazine, UK