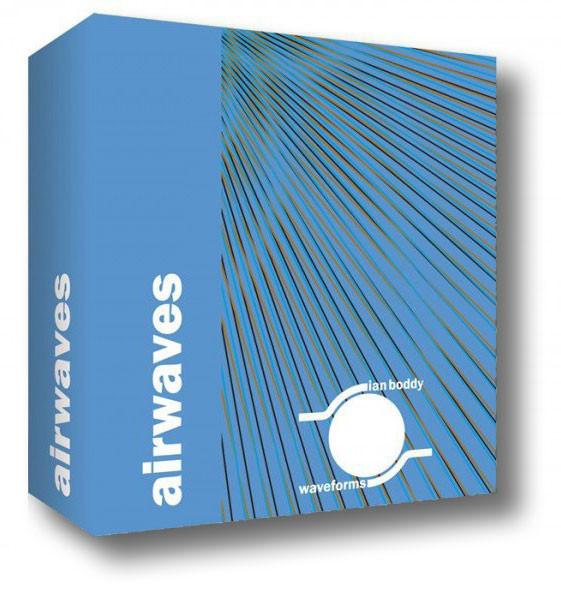 Airwaves
Intriguing sounds from strange garbled voices, buzzing interference patterns to hidden morse code
Welcome to the tantalizing world of Airwaves produced by well-respected UK sound designer Ian Boddy. All the sounds in this fascinating sample library were recorded using a high quality and powerful radio transceiver. This provided the raw data of strange garbled voices, buzzing interference patterns and hidden morse code signals that Boddy transformed into Airwaves.
Many of the samples you will hear are virtually untouched other than using some judicious EQ and compression to "clean up" the material. All the sounds are originally recorded in mono and some have been further processed in stereo using an arsenal of plug-ins to enhance and complement the mood and atmosphere of these intriguing sounds.

The Kontakt 2 programs are a simple C0 - C6 keyspan with C3 as the root key and a basic envelope and low-pass filter provided. The modulation wheel is set to turn the cut-off of the filter down as it is raised. No other programming is included as the sounds themselves are "finished" and it is intended to give the user the flexibility of adding their own effects and modulations if desired.
For more detailed info on the contents of Airwaves, please take a look at the PDF Manual.
Airwaves is also available as part of Odyssey: an amazing value compilation of eight Ian Boddy sound design libraries, including Outer Limits, Ambiosis, Elektrolytic, ASL, Beatalogue, Drumalogue and Radiophonica. Click here to go to the Odyssey product page.
Airwaves is the second title in Ian Boddy's Waveforms series of sample libraries. Grab a taste of the series by downloading the 113 MB of FREE sample content with our free sample promo pack!
This taster pack contains over 100 samples from the series, and includes PDF copies of all the user manuals. NOTE: The samples in the Promo Pack are for demo purposes only and cannot be used for commercial purposes. If you need to include the demo samples in your commercially released music you must purchase the full version(s) of the product(s).
About the WAVEFORMS Series:
Waveforms is a series of downloadable sample libraries from well respected UK sound designer Ian Boddy (of Something Else Music Ltd) who has been producing sample libraries for 16 years. His work includes Ambient Volumes 1 & 2, Malice in Wonderland, Morphology, Analogue Sequencer Loops, Outer Limits, Dream Zone and Electric Dreamz.
His musical career actually goes all the way back to 1980. Since then he has released over 30 solo & collaborative CDs, performed over 100 concerts in the UK, Europe & the USA and runs the highly respected ambient music label DiN which has currently released 31 CDs.
Furthermore, he also composes library music for the UK's largest independent library music company DeWolfe having written 10 such titles for them to date.
All the Waveforms libraries are comprised of 500 - 600 MB of 44.1KHz, 24Bit WAV files. For your convenience Native Instruments Kontakt 2 patches are also provided for each sample as well as audition programs for all the sounds in a single category where the individual samples are mapped out one per key ascending from C1.
Download Size (zipped file):