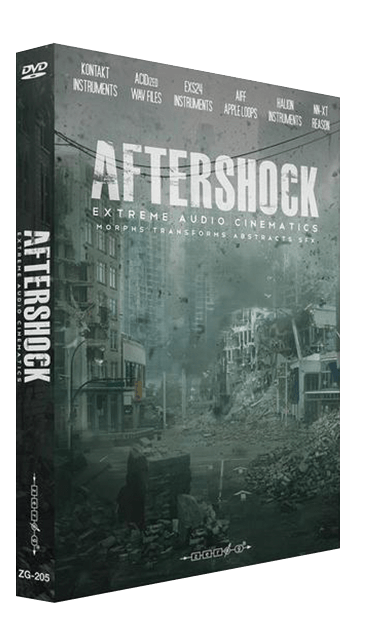 AfterShock
Extreme audio atmospheres and fx
Welcome to AfterShock - Over 2.1 GB of extreme audio atmospheres and fx for film and game soundtrack and dance music producers.
AfterShock is the latest library by soundtrack composer, dj and experimentalist Si Begg. Si wanted to make a sound library that would sonically stand apart from the many existing cinematic/ trailer style collections. He has achieved this by using the palettes of cutting edge dance music and taking those into a cinematic realm whilst making sounds that are fresh, intense, exciting and boundary-breaking.
AfterShock is a huge collection of abstract events, atmospheres, ambiences, hits, sweeps, risers and effects, morphs and transforms, drones and tones and lots more.
This beautifully crafted library can be used in many different TV, film and game genres especially action, fantasy, science fiction and horror as well as for various EDM genres and anything requiring sophisticated and extreme sound design.
These original and inspirational samples can be used as part of the texture of detailed music productions, or as the basis for soundtrack-based music, providing an inspiring range of modern but unconventional samples that any pro media composer or more experimental music producer could benefit from.
The library contains nearly 600 samples in both Acidized Wav and AIFF file format all recorded in stunning 24bit audio. Kontakt 5.4.2 files, EXS24, HALion and NN-XT instruments are also included. All the samples in this library are 100% original and royalty-free for your musical use without any additional licensing fees.
Si Begg is also behind these other highly-acclaimed libraries, Distorted Dancefloors, Electro Glitch Essentials, Extreme Vocal Environments (EVE) and Extreme Environments.
This library has a total expanded size of 4.34 GB and includes:
594 Acidized WAV files
594 AIFF Apple Loops
645 Kontakt Instruments
594 EXS24 Instruments
594 HALion Instruments
594 NN-XT Instruments
Contents Include:
Abstract Events
Bass Effects
Combined Efects
Drones & Tones
Hits
Morphs and Transforms
Reverse FX
Risers
Sweeps

For more detailed info on the complete list and descriptions of the contents of Aftershock: Extreme Audio Cinematics, please take a look at the PDF of Contents.
"Is Aftershock worth it? Yes, if you're looking for futuristic soundscapes for your productions. Aftershock will save you from fiddling around with synths and plugins to create sounds similar to it. Why reinvent the wheel when you can get a sample library that has everything you need to create the score for Blade Runner part 2?"
- Sonic Boom Bap
--
"The massive Bass Effects, energy-building risers and high impact Hits are immediately ripe for plunder, but there's endless sound design potential in the rest of this 2GB tour de force, too. Rated 9/10"
- Computer Music Magazine, UK
--
"It's an intelligent-sounding library that the pro media and experimental musicians can benefit from. There's a level of sonic consistency amongst the 594 WAV samples included. And that's the goal of Aftershock - to inspire you with great cutting-edge sound design.......This one is a 'keeper' and will be useful for many, many years to come."
- SoundBytesMag
--
"A large and meticulously engineered package of cutting-edge sound design samples that's perfect for media work. Also, having individual sampler patches for each sample is a major bonus. An excellent resource for anyone wanting fresh sounds for a soundtrack, or for dance music producers looking for sophisticated sounds and FX. Rated: 9/10."
- Music Tech Magazine, UK
Download Size (RAR files):
Parts 1 - 3: 953 MB each
Part 4: 78 MB
Info & Quotes
"It's an intelligent-sounding library that the pro media and experimental musicians can benefit from. There's a level of sonic consistency amongst the 594 WAV samples included. And that's the goal of Aftershock - to inspire you with great cutting-edge sound design.......This one is a 'keeper' and will be useful for many, many years to come." - SoundBytesMag
"A large and meticulously engineered package of cutting-edge sound design samples that's perfect for media work. Also, having individual sampler patches for each sample is a major bonus. An excellent resource for anyone wanting fresh sounds for a soundtrack, or for dance music producers looking for sophisticated sounds and FX. Rated: 9/10." - Music Tech Magazine, UK
"The massive Bass Effects, energy-building risers and high impact Hits are immediately ripe for plunder, but there's endless sound design potential in the rest of this 2GB tour de force, too. Rated 9/10" - Computer Music Magazine, UK