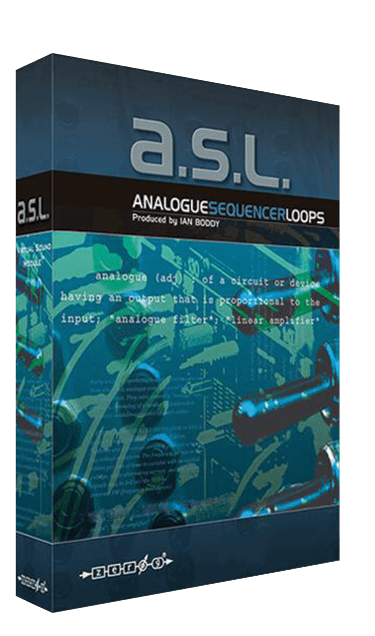 A.S.L.
Over 1.5 GB of pure analogue modular and vintage analogue synths
Unpolluted, undiluted and undisputed, ASL (ANALOGUE SEQUENCER LOOPS) is 100% pure analogue, using only classic analogue synths and hardware analogue sequencers - and superbly captured at 24bit sampling resolution.
ASL is based around a uniquely inspiring new sample library from IAN BODDY, one of Europe's leading synthesists, featuring 1,000 loops and over 1.5 GB of brand new material sourced entirely from analogue modular systems & vintage analogue synths and performed solely on hardware analogue sequencers.
Provided in WAV, Kontakt and REX multiformat, this superb loop library is designed to complement Ian's highly acclaimed 'Morphology' sample library.
A.S.L is also available as part of Odyssey: an amazing value compilation of eight Ian Boddy sound design libraries, including Outer Limits, Ambiosis, Elektrolytic, Airwaves, Beatalogue, Drumalogue and Radiophonica. Click here to go to the Odyssey product page.
If you want to read about this inspiring library in real depth before purchase, click HERE to download a complete guide to the full ASL library (.zip file, 283 KB, expands to give mini-website viewable in your web browser) - including indexes of all samples and instrument files, programming notes, Ian Boddy biography, and links to the 5 audio demos.
Sound Sources :
Moog IIIC (extended) modular
Roland System 100M modular
Doepfer A100 modular
Analogue Systems modular
Analogue Solutions Concussor percussion modules
ARP 2600
Minimoog
Moog Voyager
Oberheim Xpander
VCS 3


Sequencing :
Moog 960 sequential controller x 2
Roland 100M 182 sequencer
Roalnd 100M 184 polyphonic keyboard arpeggiator
Analogue Systems RS-200 sequential controller
Analogue Solutions CV8 - 8 step CV sequencer x 2
Analogue Solutions GT8 - 8 step gate sequencer x 2
Analogue Solutions MC01- Master Clock with clock dividers
Analogue Solutions FS01 - Fill In / Quad Switcher
Doepfer A100 - various Seq Switch/Clock Dividers/Clock Sequencers


Working with the provided KONTAKT instrument patches, not only can you sync, stretch, and pitch the loops, but also filter, effect and modulate them as well. Use your software sampler's powerful sound-shaping filters, flexible envelopes, syncable LFOs, and distortion, syncable delay, and lo-fi effects to inject even more energy and individuality into the loops.

Experience the sonic eminence of genuine, unadulterated analogue power!
The full ANALOGUE SEQUENCER LOOPS library features the following sound categories:
Analogue Drums
Bass Sequences
Melodic Sequences
Sine & Pure Sequences
Electronic Percussion
FX Loops
Hi-Hat & Noise Loops


These are further subdivided into tempo groups ranging from 90 - 150 BPM. With KONTAKT's ability to play back loops at varying tempos these are provided purely to conveniently divide the library into easily digestible chunks.

Ian Boddy's extensive arsenal of vintage and modern analogue synths and analogue sequencers has been extensively plundered to create this unique and inspiring library.
For a list of instrument patches included in the ASL library, please take a look at the PDF of Contents.
Download Size (zipped files):
Part 1: 418 MB
Part 2: 433 MB
Part 3: 530 MB
Part 4: 151 MB
Part 5: 279 MB
Part 6: 354 MB
Info & Quotes
"Very inspiring and a great way to kick start the creative juices. I'd suggest that if you're into electronic music you should check this out: it would be great for the more esoteric side of ambient music or film music. While a collection like this is never going to be quite the same as having some analogue synths in your studio, as a shortcut to inspiration they can't be faulted. And they stay in tune, which is more than can be said for most vintage synths!" - SoundGenerator.com website
"There is some excellent stuff amongst this lot.. consistently high audio quality.. genuine analogue character.. full of movement and warmth.. I could imagine these loops working in a number of contexts ranging from synth-led Depeche Mode or Soft Cell through club styles (ambient trance anyone?) to a Mike Oldfield/Tubular Bells sound.. For fans of a genuine analogue sound, ASL ought to have considerable appeal and, given the price, the library offers respectable value for money" - Sound On Sound Magazine, UK